I think I speak for a lot of folks when I say that starting the day as a pandemic-exhausted parent has me feeling like Gandalf facing the legions of Sauron's forces while also being Frodo seeking the best route up Mount Doom to destroy the Ring. I just want to make the bad stuff go away and bring about peace without too much destruction.
Just as Gandalf, Frodo, and their companions discovered, there are an awful lot of things looming in the way before we can make each day successful. Thankfully J.R.R. Tolkien provided many layers of inspiration for us in The Lord of the Rings series starting with, "There is some good in this world, and it's worth fighting for." (A totally Intentergy way of thinking.)
To bring the full Intentergy spirit to this post I want to remind everyone that it's good to not have just one "precious" person or thing that absorbs all our energy and attention. Keep your loyal and loving companions close. If you get lost, scared, or distracted, there are plenty of ways to turn a new page.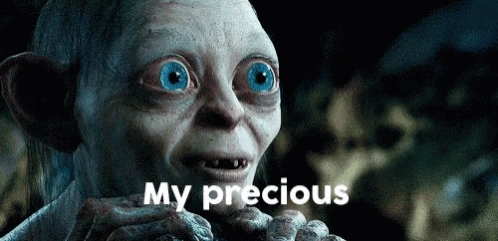 Turning off the news has been the best means for moving past the pandemic panic. To keep myself and kiddos from fixating on the COVID crashing down around us, I've changed the tone of what we watch on TV and listen to on the radio. I don't want to completely ignore the pandemic's existence, but it doesn't have to be the ring surrounding our day. (Thanks to Smeagle we can see that fixation is not attractive.) Projects, playing sports, and finding ways to be with those we love have helped broaden our focus. That broader focus has made the days much more enjoyable and the time has passed much quicker.
When it comes to loyal and loving companions, we've got to find ways keep the fellowship flowing. Whether it's through daily texts or Happy Hour Zoom meetings or actually getting together poolside or on the local coffeehouse patio, we have to find ways to let our friendships venture into our existence. As Gandalf said, "All we have to decide is what to do with the time that is given us." Discover and decide on ways to keep your friends and family in touch. Kids need interaction too. Create ways for them to interact with their friends, cousins, and classmates however you can. (Having happier kids reduces the numbers of angry legions we parents are forced to fight off.)
If you find yourself feeling particularly lost, afraid, or distracted, find confidence in Mr. Tolkien's words, "Courage is found in unlikely places." Allow yourself time and reflection so as to discover what it is that will guide and bolster you. Also know that you are not alone in these times of uncertainty. We are ALL feeling a bit off the beaten path right now. It's okay to admit this to our families and friends. It is the unity we build in these times that will help us find the way to comfort and calm.
Finally, if you have no other joy to share because of the cooped up chaos of COVID 19, remember that at least you don't have hobbit feet and ears.
By: Melanie A. Peters
P.S. If you choose to use the hobbit feet and ear knowledge to cheer up your children, you may have to give some background info. Feel free to reference these photos.